Your Mental Health and Unspoken Expectations
It is a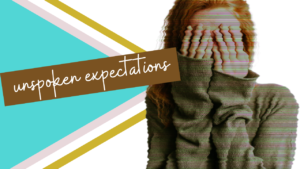 societal norm to expect others to know what we desire from them without ever discussing it. However, to hold someone accountable for what you have never discussed or shared is extremely UNHEALTHY, as it causes feelings of inadequacy, frustration, sadness, bitterness, anger, depression, resentment, abandonment, hopelessness, and the list goes on.
Recently, a client shared how each time she planned events for the family, everyone would have excuses for why they couldn't attend. However, when they made plans for the family, they always expected her to attend. She would then find herself frustrated, angry, and feeling unloved.
I shared with her that, yes, it would be nice for them to attend everything she planned, but they have the right to choose what they want to do with their day, just as she does. Because she was experiencing these negative emotions, she was likely using their attendance as an external reference point (check out my free ebook and free audio training to learn more about external reference points). Thus, her logic was not benefitting her because as she sat home feeling rejected and upset, her family was out enjoying the plans they had made. Therefore, anytime you have negative emotions, your external point of reference is no longer benefitting you.
I gave her the following example. When I launched my coaching practice, I let friends and family know about choosing whether or not to support it. No agreement has been made for any of them to follow me on social media, like or share my posts, listen to my podcast, read my blog, obtain any services, or tell others about my practice. Because of this logic, I NEVER get upset or disappointed when they don't for whatever reason, though I am always grateful when they choose to do any of those things.
I would not be operating in equity, which is a function of living from the heart, if I did not first discuss my expectations with those from whom I desired some action. Then, with a discussion on the table, I allow others to accept or not to accept what I hope from them. This conversation creates a space of equity for everyone involved.
My days of feeling unloved, frustrated, sad, bitter, angry, depressed, abandoned, and  hopeless because others did not do or say what I thought they should do automatically are over! LOL. I stay in peace and joy these days.
Is your mental health being affected by unspoken expectations? If so, you may want to check out today's podcast. In the podcast, I dive deeper into this topic.
Also, I would love to hear from you. Let me know how these blogs are giving you a new perspective by leaving a comment below.
I love you with all of my heart,
Coach Kourtney
The Heart Mentor
Have you considered heart coaching? With my laser package you retain my coaching services with unlimited 20 minute calls for 3 months. This package is only $195. You may book an discovery call here: https://calendly.com/coachkourtneyk
#LiveFromTheHeart
-Coach Kourtney, The Heart Mentor